Pewter is one of the purest and most valuable metals. It is absolutely food safe,
so tasteless and odorless and created for everydays use.
Due to the influence of air, pure pewter is only slightly discolored. This, from lovers estimated velvet gray color, is called patina.
When maintaining your pewter collectibles regularly with the ARTINA maintenance set, you will enjoy the shine for decades. Please always remember two critical facts:
 - Pewter is not dishwasher safe!
-  Never leave any remains of food or drinks on / in the product until they dry out.
Compared to glass for instance, pewter does not have a fine surface. Please clean the pewter after every use. Rinse with clear water and dry it with the ARTINA cleaning cloth.
Handwash the item for removing dust or fingerprints. Do not use scratching cleaners but soft soaps or liquids. If the wished degree of cleanness does not establish, please use the ARTINA cleaning cloth in addition.
If you do not wish the patina, please use the respective ARTINA maintainance product:
Surfaces with relief:
These are mostly patinated by hand in the manufacturing processes. That's why these
patinas cannot be removed.
Silk-matt surfaces:
These can be cleaned with pewter cleaning cloths or, in case of heavier dirt, with a scotch Brite or fine steel wool. Please always follow the natural lines in the surface to avoid scratches.
Antique surfaces:
We recommend the ARTINA soft cleaning cloth and the ARTINA shine polish. You can also use the pewter cleaning cloth.
Polished surfaces:
Clean these with the shine polish and a soft cloth for the best results. Please always follow the natural lines in the surface to avoid scratches.
Removal of scratches and dents:
Remove cratches with fine Scotch Brite or very fine steel wool.
Remove ents by pressing your finger (or a small round wood) onto the dent and moving from the outside to the center of the item.
You an also use rubber hammers on an even surface on plates. But this requires some handicraft skills.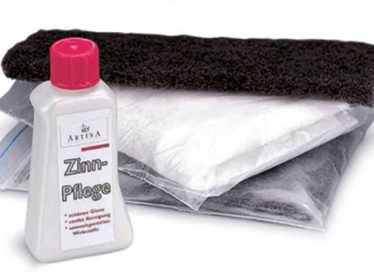 The point of using dummy text for your paragraph is that it has a more-or-less normal distribution of letters. making it look like readable English.